Welcome to the Normal Station Wiki
[
edit
|
edit source
]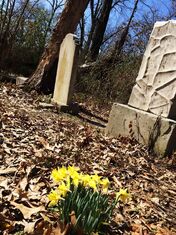 This wiki contains information about the historic Normal Station neighborhood in Memphis, TN, including the Eckles-Madison cemetery on Carnes.  Normal Station is a neighborhood bordered by Southern Avenue to the North, Audubon Park to the East, Park Avenue to the South, and Highland Avenue to the West.
The wiki would not be possible without the generous contributions of Laury Perry.  Thank you!
Demographics Most of the Normal Station neighborhood is contained in census tract 74. All demographic data comes from the 2010 census.
Normal Station is 70% white and 30% non-white, making it almost the inverse of the general Memphis population, which is 75% non-white and 25% white.
Normal Station residents are generally more young adults than most of Memphis. 38% of Normal Station residents are between the ages of 20-39 years old, compared with 28% of Memphians between those ages. The median age in Normal Station is 37 years old. The age and racial demographics are likely a result of the neighborhoods proximity to the university.
A majority - 54% - of Normal Station residents are renters. City-wide, 43% of Memphians are renters. Normal Station has a lower percent of empty housing stock than Memphis. Only 4% of Normal Station houses are vacant, compared with 7.6% of Memphis houses.
Rent, with a median of $790/month, is higher in Normal Station than Memphis, likely the result of the high demand for rental units. The median mortgage payment in Normal Station is $836/month.
Per capita income in Normal Station is $16,491/year putting it more or less on par with Memphis' $16,981/year. Median household income is almost right in line with Memphis' median, at $29,697/year. Median rent in Normal Station is 26% of a median yearly income, while the median mortgage payment is 27.5% of the median yearly income.
Significantly fewer Normal Station residents live in poverty than in Memphis. In Normal Station, 8% of residents live below the poverty line, compared with 14% of Memphians. Likewise, many few Normal Station families live in poverty than city-wide.
Up until the 20th century Normal Station was part of a larger area of land known as the Eckles Tract. Prior to this, the land had been part of a land grant given to two Revolutionary War veterans, Dillon and Rhodes, in 1823. Although there is some evidence to suggest that the land may have originally been part of a land grant given to a war veteran by the name of Kimball as some land records indicate that the Eckles family purchased land from a William Kimball. After the year 1900, the land passed from the Eckles family to the Madison family.
A Brief Family Tree- The following is a brief immediate family tree for William F. Eckles.
William F. Eckles  (B. 1774, Sussex Co, VA - D. 1854, Memphis,TN.)
1st Wife: Polly Bobbit (B. 1780, Sussex Co., VA - D. 1805,Sussex Co., VA)- married Dec 1, 1800
2nd Wife: Martha Hamblin Vincent (B. 1786, Sussex Co., VA - D. 1843, Memphis, TN)   
The following is a brief immediate family tree for the Madison family.
Roger Madison (B. abt 1828 in Mississippi - D. between 1880 and 1890?, Memphis, TN)
Wife: Julia A. Philips (B. 1844,Fosyth Co, Winston-Salem, NC - D. 1901, Memphis, TN) - Married Oct. 1868
General history of the cemetery from Find-A-Grave, which includes names of the people buried. 
In 1995, Mrs. Marie T. Beckett, a local amateur historian, requested that the cemetery be "preserved and designated Historic with care and respect as the Eckles Cemetery."  (Letter to Commercial Appeal, 5/1/1995)
Stories about the Eckles-Madison Cemetery
[
edit
|
edit source
]
Memories from a long term Normal Station Resident
[
edit
|
edit source
]
This story was compiled by Steve Payne, an anthropology student at the University of Memphis, after an interview with a long term resident of the Normal Station neighborhood.
This long term resident has lived in the Normal Station neighborhood since 1953. He lives in a house next door to the home his parents lived in. He says that while the neighborhood has remained fairly stable over the years, mostly thanks to the university, there have been some changes. "It has evolved to where it's either older type people like me…or else its renters" – there's a lot less families and kids in the neighborhood.
He remembers playing in the Madison-Kearny cemetery when he was kid on Halloween. He says that on Halloween "we'd get down there early before the sun went down and hide. Back then there were a lot more of the grave markers, and once the sun went down the street lights came out and you could actually get in the shadow of some of the bigger markers and then jump out and scare anyone that came up." He says that when he was little, he was usually the one who would get scared – "it was usually older kids scaring younger kids." As he got older, though, he and the older kids wised up. They'd have one kid, "a shill, lure the younger kids" to the graveyard, and then scare them once they got there.
He doesn't think that kids play in the graveyard on Halloween anymore. He says that Halloween has really changed over time. "This past Halloween I didn't even have a single trick-or-treater. Not one. And it's rare to have more than 20 even on a busy Halloween." He remembers when he was kid, upwards of 100 kids in the neighborhood would be out trick-or-treating.
The graveyard has seen better days, according to him. He says that when he was a kid, neighbors kept the lot mowed and cleaned up, but that up until a few months ago it was "like semi-tropical rainforest." Neighborhood efforts have cleared back the ivy that had overgrown the lot.
Local lore persists that slaves were buried in the cemetery.
[
edit
|
edit source
]
In a 1999 interview with a local historian, an elderly resident said that "old Mr. Eckles" told her that slaves were buried in the back of the cemetery.
Collaboration with the University of Memphis
[
edit
|
edit source
]
With the close proximity to the University of Memphis, different departments within the University have collaborated with members of the Normal Station community to improve the cemetery.
The Architecture Department has worked with the University Liaison on what the community would like to see in the space. The department has created renderings to show what the space could look like with mulch paths, gazebos, and different seating arrangements. With the liaison and members of the neighborhood association those renderings have been viewed and suggestions from the community have been taken into account.
The Archaeology Department has gained access to a ground penetrating radar to scan the cemetery to find additional graves where markers have been destroyed or are no longer standing. With these new findings the Architecture team will go back and create new renderings that incorporate the radar findings along with the communities suggestion. 
The Anthropology Department has worked with members of the community to gather histories of the cemetery and the community. Members of the department have collected genealogy and family histories of those that are known to be buried in the cemetery. The Anthropology Department created this wiki page so that members of the community can share their memories and concerns for the neighborhood. We encourage everyone to leave pictures and stories of times spent in Normal Station.
In 1860, General Sherman commissioned a map of Memphis and its surrounding region.  You may view it from the website of the Library of Congress.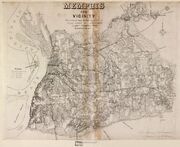 An 1870 birds-eye view of Memphis.  View the interactive map at the Library of Congress.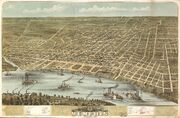 You can see this and other Memphis railroad maps here.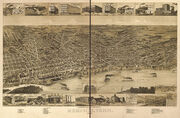 You can see this map and read about railroad transportation here .
Interactive Map of Normal Station neighborhood.
Eckles-Madison in the News

Overgrown cemetery scheduled for cleanup2/24/2014
Normal Station residents seeking improvements to abandoned cemetery4/1/2013[1]
Madison-Echles cemetery improvement plan progresses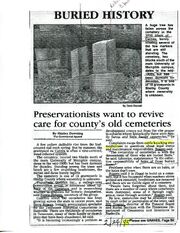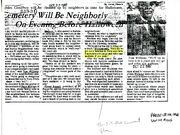 Other Cemeteries in the Memphis area.
[
edit
|
edit source
]
To see a list of cemeteries in Shelby County, you can visit here.
To learn about the oldest African-American cemetery in the city, visit the Zion Community Project web site.
Are You Looking for a Specific Grave?
[
edit
|
edit source
]
Find-A-Grave can help.
The Tennessee Records Project also contains cemetery records.
Look for Tennessee death records here.
Are you looking for property ownership documents? 
[
edit
|
edit source
]
Visit the Shelby County Register of Deeds.
Other Information About the Normal Station Neighborhood
[
edit
|
edit source
]
Memphis Heritagehas an excellent description of the Normal Station neighborhood and history of the neighborhood.
In October, 2002, the City of Memphis released aNormal Station Neighborhood Plan.
Photos and videos are a great way to add visuals to your wiki. Find videos about your topic by exploring Wikia's Video Library.
298px
Community content is available under
CC-BY-SA
unless otherwise noted.